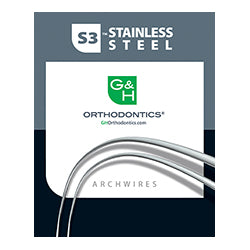 S3™ Stainless Steel, Trueform™ I, ROTH & MBT Compatible Pack of 25 wires
G&H stainless steel archwires are made from medical-grade stainless steel and continuously tested to ensure quality, precision and performance. We've reduced our manufacturing steps to ensure you get wires of the highest possible integrity and strength. 
Optimized manufacturing process allows you to add multiple step bends without breaking the wire.
Proprietary polishing process creates smoother wires with enhanced sliding mechanics.