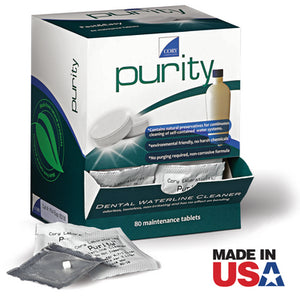 Purity Waterline Cleaner tablets are a safe and effective procedure to maintain clean dental unit waterlines. Contains natural preservatives for continuous cleaning of self-contained water systems. Environmental friendly, no harsh chemicals.
Effective, easy to use, no purging required, odorless, tasteless, non-irritating and has no effect on bonding. Compatible with all dental unit water systems.
pH balance treatment
Directions:
Every time you refill your self-contained water bottle, add one purity waterline cleaner tablet.
Use One Tablet for 0.7 L- 1 L Bottle
Use Two Tablets For 2 liters Bottle