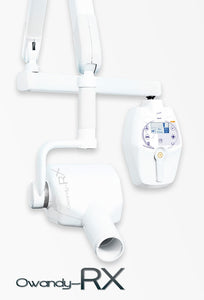 The Owandy-RX new generation: more intuitive in use, large LCD screen for optimum display and a "wireless trigger" option.
Precision & Reliability
Equipped with DC high-frequency technology, The Owandy-RX provides consistent exposure parameters. It's 0.4mm focal spot excellent quality X-ray emission flux.
Design and ergonomics
Modern, and compact, the Owandy-RX looks good and fits in harmoniously with your operating environment. The ergonomic handle means it can be positioned effortlessly, just where you need it.
Intuitive & user-friendly
Thanks to a 3.7" LCD screen, the Owandy-RX has a simple and intuitive interface. To save energy, it automatically goes into standby (sleep) mode whenever left on unused.
A snap to set up
The wireless trigger option allows remote triggering of x-ray radiation. Gone are the days when you needed to clutter up your workspace with unsightly cables in order to protect the operator. Now the operator is safely "unchained".
Technical Specifications:
Standards: Class 1 type B (EN 60601-1)
Power Supply: 110/220V to 50/60 Hz
HF generator: Variable potential of 60, 65 or 70 kV, 6mA
Focal spot size: 0.4mm (IEC 336)
Exposure times: from 0.01s to 2.00s (in 36 steps)
LCD screen: 84 x 45 mm
Microprocessor-controlled timer:
-Tooth type setting
-Patient anatomy setting