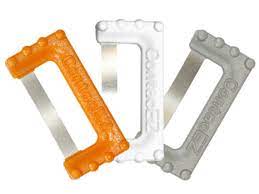 Simply Contour & Polish Proximal Surfaces
Box of 24 Contents:
(8) x Orange Serrated Diamond Strip
(8) x White Serrated Strip
(8) x Gray Final Polishing Strip
Orange Serrated Diamond Strip
Proximal Contact Adjuster With Sawtooth
Diamond Coating: Single-Sided
Diamond Grit: Extra-Fine
Serration: Double
Use this strip in place of the Black Diamond Strip when overly tight contacts are present, and the strip cannot access the interproximal space. The serrated edge readily separates and penetrates the tight contacts to prepare for ideal proximal contact adjustment. To clean out excess cement from the interproximal space, use the White or Blue Serrated Strips.
White Serrated Strip
Gentle Saw & Interproximal Cleaner
Diamond Coating: None
Diamond Grit: N/A
Serration: Double
This ultra-thin serrated strip is designed to safely cut and clean out excess cement trapped in the interproximal space after cementation. Prior to light curing, use it for interproximal cleaning of multiple veneers or composite fillings without disturbing placement and to separate them from adjacent teeth. Pass the strip back and forth buccolingually only, using gentle force.
Gray Final Polishing Strip
Proximal Surface Polisher
Diamond Coating: Single-Sided
Diamond Grit: Ultra-Fine
Serration: None
Use this strip to polish proximal contact surfaces of restorations and to restore a natural finish in one step. This strip also confirms interproximal relief (IR) after definitive cementation. For interproximal stain removal and cleaning, use the Hygienist Strip, Stain Remover.
The ContacEZ Restorative Strip System is an innovative, precision dental strip system designed to achieve ideal proximal contact adjustment and complete marginal seating of crowns, veneers, inlays/onlays, and proximal contouring of composite fillings accurately with minimal time and effort.