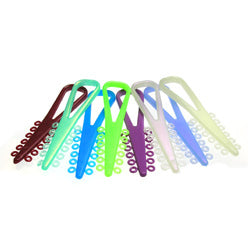 Bambino-Tie™ Elastomeric Ligature Ties, Vibrant Assorted, Pack of 84 sticks - 1,008 ties
Bambino-Ties™ are ergonomically designed for easy chairside application. Finger loop allows secure control of the stick while ties are removed and placed.

Bambinos offer increased elasticity and recovery so archwires can be secured in any bracket.

Colors include: Pearl, Glow, Neon Green, Pearl Green, Glow Blue, Pearl Blue, Lavender, Maroon.