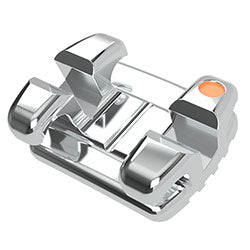 Made from 17-4 cast stainless steel, the Agility® Twin bracket system offers everything you need to realize accurate results. The single-piece pylon integrated construction offers a combination of quality and control in a bracket system that offers exceptional value. 
Center scribe line helps ensure accurate placement on tooth.

Torque-in-base enables level slot lineup and improved finishing.

Rhomboid low-profile design offers better positioning and bond strength.
The Agility® Twin Bracket System establishes a new standard for quality and reliability, offering all the advantages of a mini bracket with the control of a full size bracket.
The innovative design of the Agility® Twin Bracket System incorporates one-piece construction with a an integral pylon base with built in torque as well as all other popular features.
UR1+ 17°T+ 4°A.022
UR2+ 10°T +8°.022
UR3 HK -7°T+ 8°A.022
UR4 HK -7°T 0°A.022
UL1 +17°T +4°A.022
UL2 +10°T +8°A.022
UL3 HK -7°T +8°A.022
UL4 HK -7°T 0° A.022
LL3 HK -6°T +3°A.022
LL4 HK- 12°T 0°A.022
LR4 HK- 12° 0°A.022
LO1/2 -6°T 0°A